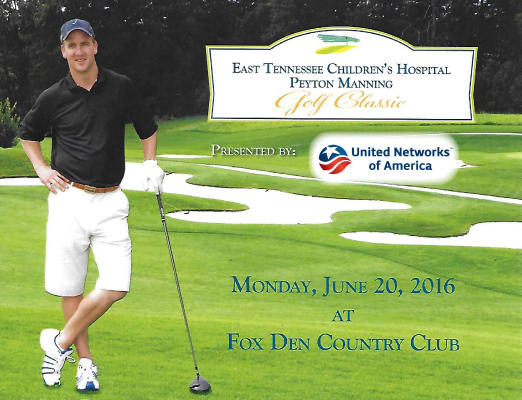 The Peyton Manning Golf Classic is an annual summer fundraising event in Knoxville that benefits both East Tennessee Children's Hospital and the PeyBack Foundation. At the event, more than 200 golfers in 4-player teams enjoy a round of golf in the morning or afternoon and get to spend time with former University of Tennessee quarterback and current Denver Broncos quarterback, Peyton Manning. The PeyBack Foundation, established by Peyton Manning in 1999, promotes the future success of disadvantaged youth by assisting programs that provide leadership and growth opportunities for children at risk. East Tennessee Children's Hospital uses the proceeds from the event to purchase vital services and equipment.
Peyton Manning will be present at the tournament and visiting with golfers throughout the day at Fox Den Country Club in Farragut. The day of golf will include breakfast, lunch, a 19th hole reception, photo opportunities with Manning and much more.
"We are so thankful to Peyton Manning for including East Tennessee Children's Hospital as a key recipient of his Golf Classic this year. It was a great day to play a round and exciting to see golfers who have supported this tournament for many years continue to participate and support Children's Hospital. When you combine a favorite hometown athlete with a golf event that raises money for two worthwhile charities, it's a hole-in-one day for everyone involved."
United Networks of America is a proud sponsor of East Tennessee Children's Hospital. The 2015 Peyton Manning Golf Classic with the help of United Networks of America raised more than $166,000 that will help provide life-saving care to the children treated at East Tennessee Children's Hospital.