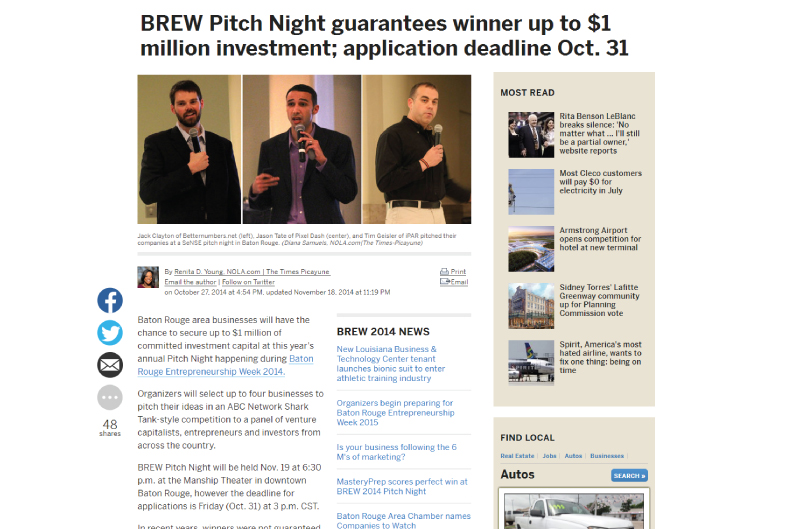 Baton Rouge area businesses will have the chance to secure up to $1 million of committed investment capital at this year's annual Pitch Night happening during Baton Rouge Entrepreneurship Week 2014.
Organizers will select up to four businesses to pitch their ideas in an ABC Network Shark Tank-style competition to a panel of venture capitalists, entrepreneurs and investors from across the country.
BREW Pitch Night will be held Nov. 19 at 6:30 p.m. at the Manship Theater in downtown Baton Rouge, however the deadline for applications is Friday (Oct. 31) at 3 p.m. CST.
In recent years, winners were not guaranteed investment funds from the judges, though on-the-spot deals were voiced.
Last year's winners, owners of Pixel Dash Studio, did receive funding, however organizers did not detail the amount and business owners are under a confidentiality agreement.
In 2012, however, local business leaders pledged more than $300,000 in angel investment funds to companies at the event. A $200,00 deal was discussed with the winner, owner of Whipsy, a New Orleans-based company that makes alcohol-infused whipped cream, however, the deal was dead as of March, 2013.
But Baton Rouge entrepreneur Jared Loftus, who helped organize BREW Pitch Night 2013 said the fact that deals fell through and some business owners did not have a detailed business plan to keep investors interested is all part of the business.
"About 30 percent of deals that even happen on Shark Tank actually pan out. Nobody's putting money into a company because of a five-minute, or even an hour presentation. If you're interested, you follow up with the due diligence," Loftus said, so the BREW sharks were no different, he added.
But this year, while all judges still have the option invest in any of the companies, Ryan "Jume" Jumonville, founder and chairman of the board for United Networks of America (UNA), has committed to investing up to $1 million in the company selected by he and his CEO J. Brian Oliver, pending due diligence by UNA and its advisors.
Additionally, a $5,000 cash prize, sponsored by MESH | Integrated Marketing & Advertising and Ogwyn Bonaventure, LLC, will go to the crowd favorite business. In past BREW Pitch Night years, crowd favorite prizes were given from funds collected by night-of donators.
Companies that are among the four selected will be required to participate in at least two free coaching sessions to practice their pitch and presentation.
And if companies don't make it to the final four, they'll have the chance to attend a 90-second "Quick Pitch Lightening Round" where they can pitch their idea to the audience and judges for their chance at a $500 cash prize sponsored by Chase Bank.